The structural inspection it is performed per Illinois standard of practice for the home inspectors.
We do not perform structural inspections outside the scope of home inspection. We recommend a qualified foundation repair contractor or a structural engineer if necessary.
The Home Inspector shall observe structural components including foundations, floors, walls, columns or piers, ceilings and roof. The home inspector shall describe the type of Foundation, floor structure, wall structure, columns or piers, ceiling structure, roof structure. The home inspector shall: Probe structural components where deterioration is suspected; Enter under floor crawl spaces, basements, and attic spaces except when access is obstructed, when entry could damage the property, or when dangerous or adverse situations are suspected; Report the methods used to observe under floor crawl spaces and attics; and Report signs of abnormal or harmful water penetration into the building or signs of abnormal or harmful condensation on building components. The home inspector IS NOT REQUIRED TO: Enter any area or perform any procedure that may damage the property or its components or be dangerous to or adversely effect the health of the home inspector or other persons.
It should be considered to check for signs of abnormal or harmful water dispersion into the building as well as signs of anomalous or destructive strengthening on building components.
Type of foundation is another aspect that one has to get hold of and it includes; Masonry Block, Brick, Rock, Poured Concrete, etc.
Here you will get the statement about Columns and Piers and the quality they were made of: wood, concrete, brick, masonry block, steel columns, and/or steel jacks.
Now arrives a common question that what is a structural inspection? And the answer to this is very much simple. A structural inspection is a comprehensive description of all the characteristic of the structure's integrity and team will scrutinize the slab or pier and beam foundation, and will also look over the interior walls, exterior appearance along with the roof system.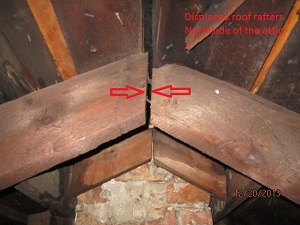 People usually comes across with the various kind of structural issues and some of them are sagging roof systems which is the most common. Then comes the lack of gutters which is another aspect to be kept in mind.
Slope of the yard / improper grading, sagging / cracks main beams and girders, cracks / differential displacement of the foundation walls are some other chief components that are considered to be the general structural issues.
Among the others are Termite infestation / damage, water/ moisture penetration through foundation walls.
The structure of the home will be inspected and reported with pictures and description. While the inspector makes every effort to find all areas of concern, some areas can go unnoticed. Please be aware that the inspector has your best interest in mind. Any repair items mentioned in the report should be considered before purchase. It is recommended that qualified contractors be used in your further inspection or repair issues as it relates to the comments in the home inspection report.